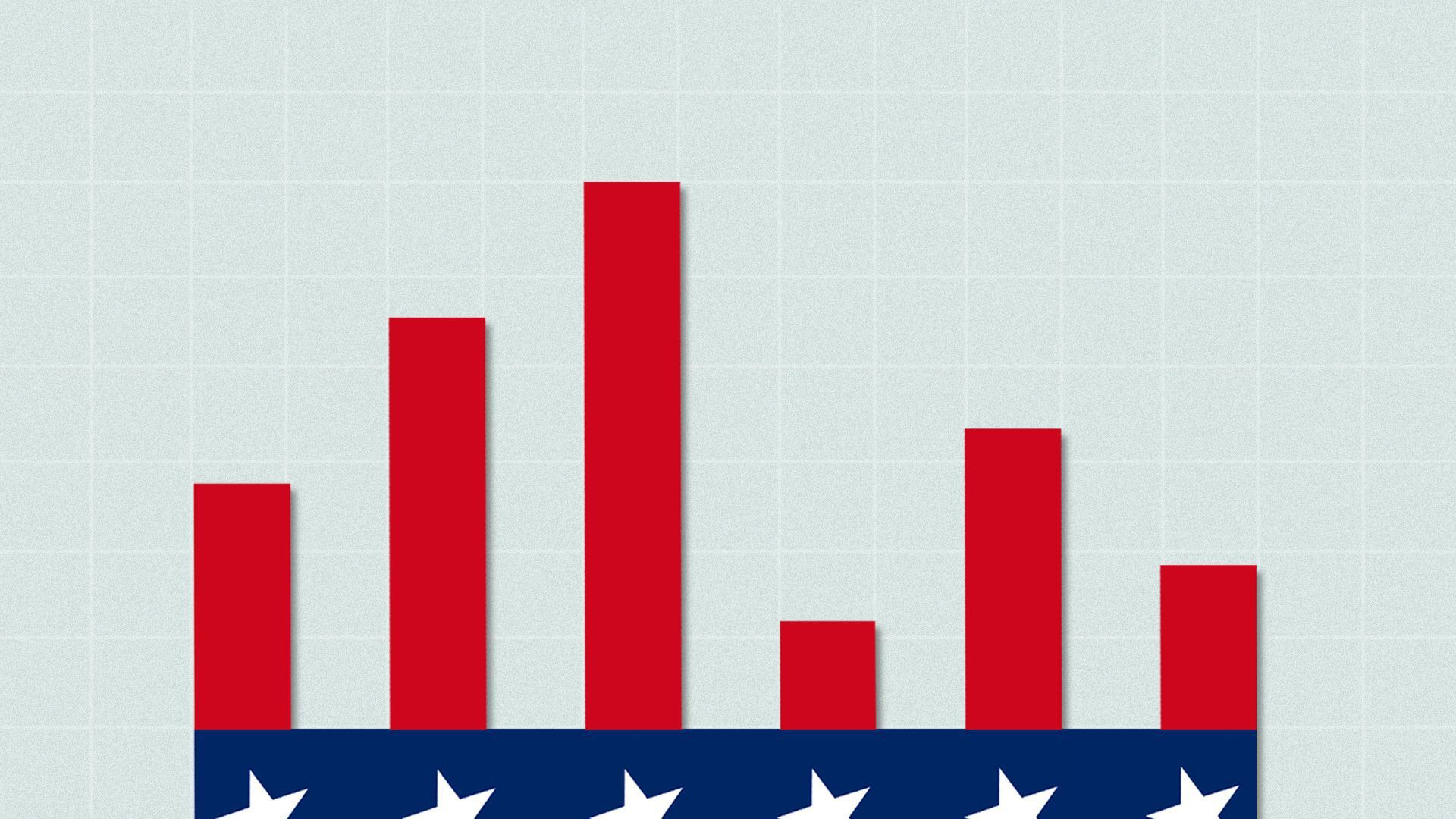 Illustration: Annelise Capossela/Axios
At first glance, fourth quarter GDP appears fairly upbeat: The economy grew at a 2.9% annualized pace in the final months of 2022, even better than analysts anticipated.
But a look at some of the underlying details suggests the economy is actually losing momentum — more evidence that the Federal Reserve's campaign to put a brake on growth is having an impact.
Why it matters: The report offers something for everyone: a strong headline number that helps the Biden administration (and others) tell a sunny story.
But underneath the hood, demand growth slowed to a crawl in the fourth quarter. That is good news for the inflation outlook, though it could mean some weaker overall growth lies ahead in 2023.
By the numbers: Final sales to private domestic purchasers rose at an 0.2% annual rate in Q4, a sharp slowdown from the 2.1% recorded in Q1.
That figure excludes the impact of trade, government spending, and inventory adjustments on overall GDP numbers; it only reflects demand from U.S.-based consumers and businesses.
By contrast, in the first half of the year, final sales data pointed to economic resilience, even as negative growth figures stirred up recession fears. The opposite was true at the end of the year.
Details: Inventory adjustments and government spending both provided a notable boost to the headline figure last quarter, adding 1.5 and 0.6 percentage points to the overall GDP numbers, respectively. But those sectors don't usually send signals about the future of economic activity.
The housing sector continued to take a massive hit from the Fed's rate hikes. It contracted at a roughly 27% annual rate — only slightly less bad than that in the previous quarter.
Business investment had been resilient, but that changed last quarter: It grew at a 0.7% annual pace, off sharply from 6.2% in the prior quarter.
International trade also contributed to strong growth — but in part because of falling imports, which points to slowing demand from U.S. consumers.
What they're saying: "Our concern is that the inventory building is increasingly involuntary rather than planned," James Knightley, ING's chief international economist, said in a note. "Consumer demand is softening at a time when improved supply chains have boosted the stock of products available."
"Likewise, the improvement in net trade is down to imports falling (a sign of a weakening U.S. demand outlook) rather than exports rising" Knightley wrote. "So, to sum up, we have good growth but not for great reasons."