U.S. stocks have rallied in 2023, as a measure of the market's fear subsided ahead of the Federal Reserve's policy meeting this week and as investors weighed company earnings.
The CBOE Volatility Index, known as Wall Street's "fear gauge," ended Friday at 18.5, "below its long-run average of 20," Nicholas Colas, co-founder of DataTrek Research, said in a note emailed Monday. That's down from early January, when the gauge, which trades under the ticker VIX, kicked off the year with a close of 22.9, FactSet data show. 
"We have started 2023 with the VIX looking a lot more like 2021 rather than 2022," said Colas. 
Stocks rallied in 2021 and then tanked last year as the Federal Reserve embarked on an aggressive campaign raising interest rates to combat high inflation. The S&P 500 was up 6% this month through Friday, compared with a 19.4% loss last year and a 26.9% jump in 2021, according to FactSet data.
Colas wrote the lower VIX and "decent start" to 2023 "stem from the market's belief that the Fed will shortly be done raising rates" and that companies' earnings can recover in the second half of this year. "Perhaps that's the correct read, but it seems prematurely optimistic to us," he said.
The VIX measures "near-term (forward 30 days) expected volatility for US large cap stocks (the S&P 500)," wrote Colas. "When the VIX declines stocks tend to rise, and vice versa."
A chart in his note shows that "a resolutely low VIX" below 20 was "the backdrop for strong annual gains" in 2021. By contrast, "a VIX consistently over 20 signals trouble," said Colas. "In 2022, it was rarely below 20."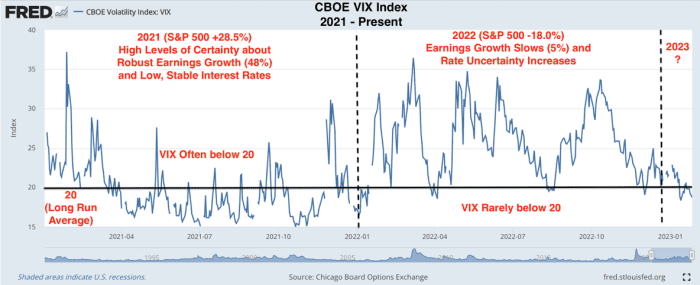 The VIX has a long-run average of 20 since 1990, a level Colas indicated with a solid black line in the chart above. "2021's certainty about strong earnings and low rates made for a below-average uncertainty year," said Colas, whereas "2022's earnings and rate environment certainly created above-average uncertainty."
Surprises?
Colas said, "You can get short-term rallies when the VIX drops suddenly in almost any market environment (including 2022), but a structurally low VIX is much more conducive to a solid year for equity market returns."
Given the VIX's decline this year to 18.5 on Friday, Colas said it's "no surprise" that the S&P 500 was up 6% through that day. Wall Street's fear gauge was above that level on Monday, trading around 19.8, according to FactSet data, at last check.
In an earlier note, emailed on Jan. 11, Colas said that "periods of sub-25 VIX readings have coincided with market confidence in the predictability of Fed monetary policy."
The Fed will hold a two-day policy meeting this week that concludes Wednesday. 
Fed funds futures indicate the market expects the central bank will announce that it's hiking its benchmark rate by a quarter of a percentage point to a range of 4.5% to 4.75%, according to the CME FedWatch Tool. Investors have been looking for clues about when the Fed may pause its interest rate increases, and how long it may hold its benchmark rate at a peak level within its rate-hiking cycle before cutting it.
"This week's FOMC decision will almost certainly be to raise rates by 25 basis points, but the Committee's and Chair Powell's communications about future policy will be the fulcrum issue for markets," Colas said in Monday's note.
Fed Chair Jerome Powell will hold a press conference on the decision of the Federal Open Market Committee, or FOMC, on Wednesday afternoon at 2:30 p.m. Eastern time.  The FOMC statement will be released shortly before then, at 2 p.m.
"They can choose to explicitly challenge the market's view that we are close to peak fed funds," Colas said. "They could also choose to say they are watching economic developments and will react accordingly. That is clearly the tone the market expects to hear."
Read: The Fed and the stock market are on a collision course. What's at stake.
U.S. stocks were trading down early afternoon Monday as investors faced a busy week of companies reporting earnings for the fourth quarter. 
The Dow Jones Industrial Average
DJIA,
-0.63%
was off 0.3%, while the S&P 500
SPX,
-1.15%
fell 0.8% and the Nasdaq Composite dropped 1.4%, according to FactSet, at last check. Last week, the Dow rose 1.8%, the S&P 500 gained 2.5% and the technology-heavy Nasdaq jumped 4.3%.
Keeping the stock market rally going in the U.S. and globally requires a year of "no real surprises" when it comes to rates or corporate earnings, Colas said.
Read: Is the VIX 'broken'? Here's why Wall Street's 'fear gauge' no longer reflects the sorry state of stocks