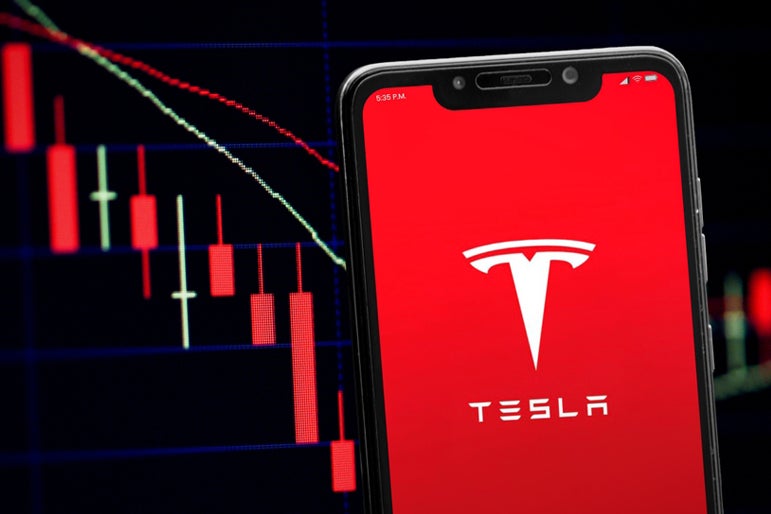 Lengthening lead time, media reports and commentary from Tesla Inc.'s TSLA management on the earnings call, all point to a surge in orders for the company's vehicles following the recent price cuts.
What Happened: Tesla shares have rebounded one month into the new year, discounting the pick-up in the order flow. A chart shared by financial data provider FactSet showed that the stock rally accelerated since the Austin, Texas-based company disclosed price cuts in the U.S. earlier this month.
See Also: Best Electric Vehicle Stocks
Since Jan. 12, a day ahead of the price cuts in the U.S., Tesla has gained roughly about 30%. It is to be noted here that part of the upside has been in response to Wednesday's quarterly results.
The KraneShares Electric Vehicles and Future Mobility Index ETF KARS has gained roughly 6% in the same timeframe. KARS is benchmarked to the Bloomberg EV Index, which provides exposure to global EV and component manufacturers. Tesla has a weighting of 3.7% in KARS and the Elon Musk-led company is its seventh biggest holding.
Here's how some of Tesla's smaller rivals fared since Jan. 12:
Chinese EV startup Nio Inc. NIO: +2.5%

XPeng Inc. XPEV: +1.3%

Li Auto Inc. LI: +11.3%

BYD Manufacturing Company Limited BYDDY BYDDF: +4.8%

Lucid Group Inc. LCID: +8.3%

Rivian Automotive Inc. RIVN: +4.2%
Source: FactSet
Why It's Important: Tesla has heated up competition in the EV race with its aggressive price cuts in China, U.S. and Europe. The company apparently isn't too much worried about sacrificing margins in the near term and seems focused on consolidating its leadership with the long term in mind.
"While in the near-term Tesla is sacrificing margins for higher volumes, we view this as the right strategic poker move to put an iron fence around its customer base and fend off growing EV competition coming from Detroit, Europe, and China," said Wedbush analyst Daniel Ives in a recent note.
For the others in the industry, the proposition means a choice between the devil and the deep sea. If they choose not to match price cuts, they are at risk of losing market share and if they opt to follow the leader and lower prices, it could hurt their already fragile bottom line. Tesla can survive margin erosion due to its scale and productivity. This luxury, however, is not available for the upstarts.
Price Action: Tesla closed Friday's session up 10.97%, at $160.27, according to Benzinga Pro data.
Read Next: Tesla Supplier LGES In Talks With EV Maker To Supply Batteries From Proposed Arizona Plant