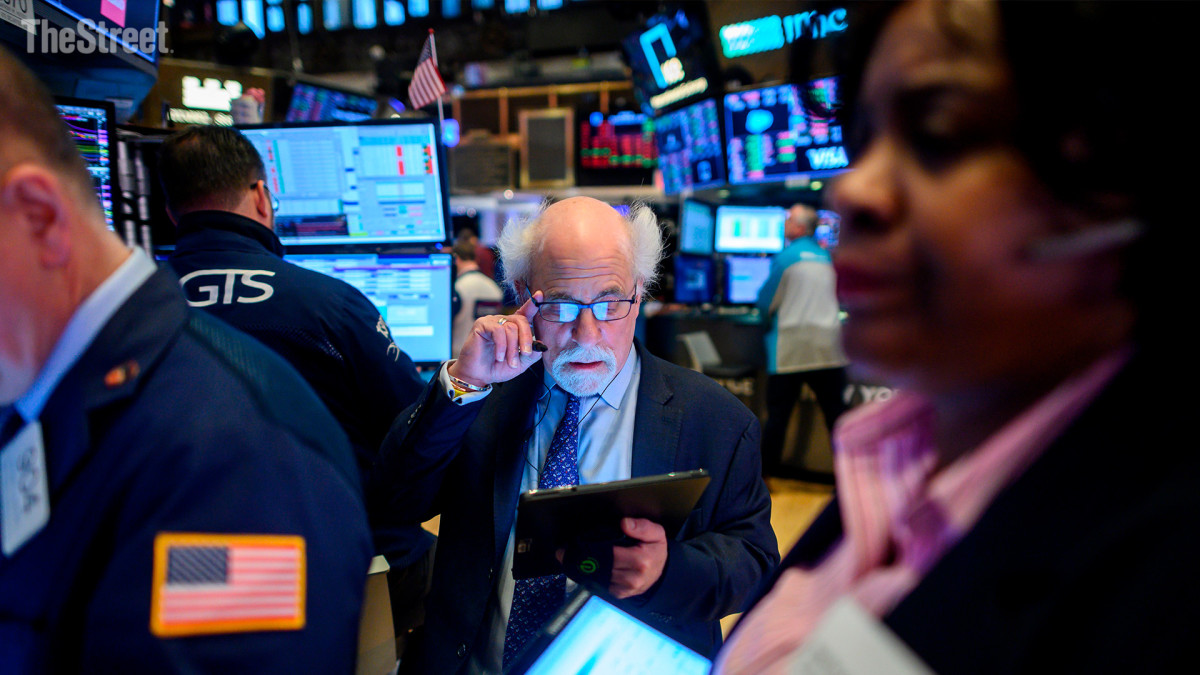 Updated at 4:15 pm EST
Stocks ended lower Monday, while the dollar slipped against its global peers and Treasury yields held steady, as investors moved gingerly into the start of a challenging week for global markets.
The Dow Jones Industrial Average finished down 260 points, or 0.77%, to 33,717, while the S&P 500 lost 1.30%. The tech-focused Nasdaq sank nearly 2%.
Three major interest rate decisions, a slew of U.S. corporate earnings and a key reading of the domestic job market will provide early tests to the market's year-to-date resilience this week, with investors likely focused on Wednesday's Federal Reserve policy meeting and a trio of earnings from the country's biggest tech companies.
Tech stocks, in fact, are riding their strongest start to the year since 2001, with the Nasdaq rising more than 11% since the start of the year despite a sharp pullback in prospects for the chip sector.
Earnings will form a major part of this week's momentum, particularly from the tech space, with around 107 S&P 500 companies reporting December quarter updates this week, including mega cap stalwarts such as Meta Platforms  (META) – Get Free Report on Tuesday and Apple  (AAPL) – Get Free Report, Amazon  (AMZN) – Get Free Report and Google parent Alphabet  (GOOGL) – Get Free Report on Thursday.
"Heading into 2023 the consensus trade for the Street was to 'stay away from tech stocks' with a hawkish Fed still on the inflation war path and dark times ahead for growth names," said Wedbush analyst Dan Ives, who described this week as the "Tech Super Bowl". "After a horror show year in 2022 we believe tech stocks were as under-owned that we have seen since 2009."
Thus far this earnings season, with 143 companies reporting, collective S&P 500 earnings are expected to fall 2.9% from last year to a share-weighted $443.6 billion.
Beat rates are modest, as well, with 67.8% of reporting companies coming in ahead of Wall Street forecasts — only only by a small margin — compared to the long-term average of 66.3% and the 75.5% average recorded over the past four quarters.
That may not be enough to keep stocks on their current path, especially if the Fed were to surprise with a larger-than-expected rate hike on Wednesday or add hawkish language to its post-decision statement.
The CME Group's FedWatch still suggests a 98.9% chance of a 25 basis point rate hike on Wednesday, with odds of a similar move in March pegged at 84.7%.
The European Central Bank and the Bank of England will also deliver key rate decisions in their respective economies on Thursday.
Friday's non-farm payroll report, meanwhile, could provide clarity to investors seeking to understand why — and perhaps how — wage growth is slowing even as jobless claims continue to decline and the economy grew at a faster-than-expected 2.9% clip over the three months ending in December.
Analysts estimate a net new 185,000 jobs were added to the economy last month, with headline unemployment edging modestly higher, to 3.6%, and average hourly earnings easing to an annualized rate of 4.3%.
Benchmark 10-year Treasury note yields, meanwhile, were little-changed in New York trading at 3.546%, after falling about 4 basis points last week, while 2-year notes were up roughly 6 basis points from Friday's close at 4.248%.
The U.S. dollar index, which tracks the greenback against a baskets of its global peers, was marked 0.32% higher at 102.25.
In overseas markets, Europe's Stoxx 600 closed 0.17% lower in Frankfurt, while Asia's region-wide MSCI ex-Japan index fell 0.58% from a seven-month high. Japan's Nikkei 225 added 0.16% to close at a one-month high of 27,433.40 points.