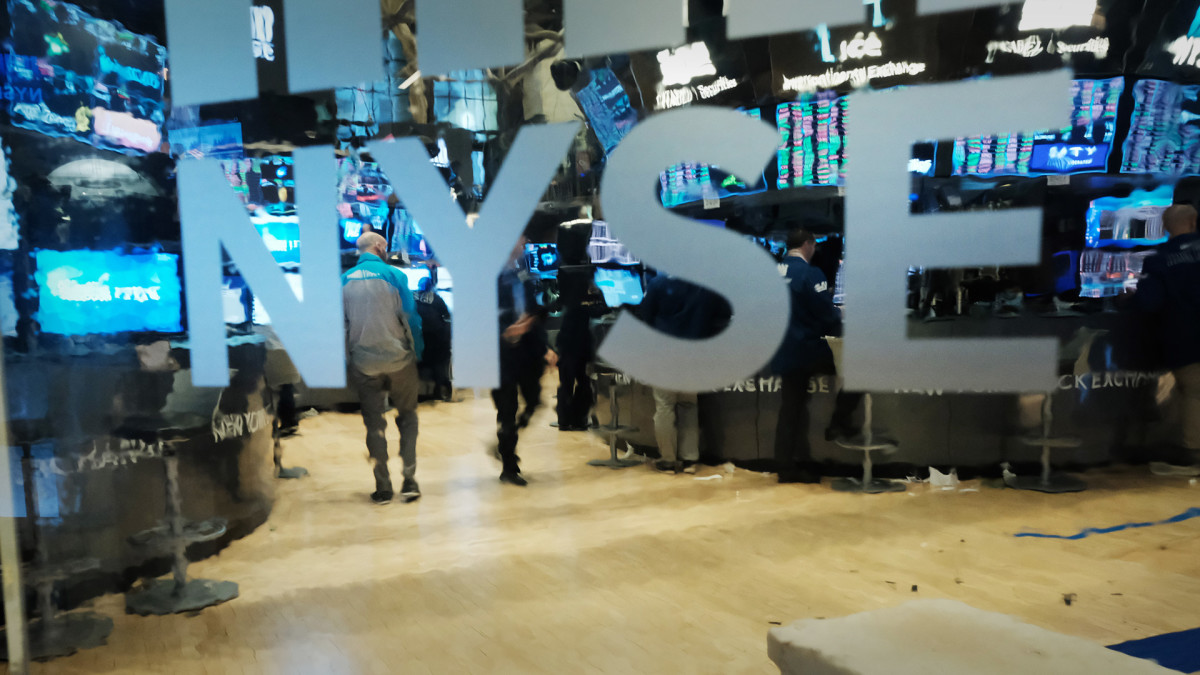 Updated at 10:12 am EST
U.S. equity stocks edged lower Wednesday, while the dollar retreated modestly against its global peers, as investors looked to enter the first trading session of the month on a cautious note, with jobs data and a crucial Fed policy decision set for later in the session.
Stocks were given a bit of a further downward push in early trading, as well, following a weaker-than-expected reading for U.S. manufacturing activity in January, with the The Institute for Supply Management's benchmark survey falling to a May 2020 low of 47.4 points from 48.4 in December.
Readings below 50 generally indicate economic contractions.
At the same time, the Bureau of Labor Statistics said its December Job Openings and Labor Turnover report, commonly known as JOTLS, showed a staggering 11.012 million unfilled positions in the economy, up from 10.44 million in November and well ahead of Street forecasts.
The early Tuesday caution, however, comes shortly on the heels of the best January performance for stocks in four years, with the S&P 500 rising 6.2% on the month. The tech-focused Nasdaq, lifted by big gains for mega cap stocks such as Amazon  (AMZN) – Get Free Report, Google  (GOOGL) – Get Free Report and Meta Platforms  (META) – Get Free Report, as well as a pullback in Treasury bond yields, rose by 10.7% for its best start to the year in more than two decades.
Wednesday's Federal Reserve rate decision, however, could either provide a further tailwind to the market's surprising rally — which has lifted the S&P 500 nearly 14% from its mid-October lows — with a dovish message from Chairman Jerome Powell, or stop it in its tracks with any hawkish signaling on rates, inflation or wage growth.
Inflation data from Europe today could, at least indirectly, provide some fuel for those seeking a dovish pivot from the Fed Chair, with the region's consumer price index slowing for a third consecutive month to 8.5% in January, well shy of the 9% forecast and the 9.2% rate recorded over the final month of last year.
In the U.S., core consumer prices were running at an annualized rate of 3.1% over the three months ending in December, compared to their 7.2% peak over the second quarter of last year.
Traders have effectively locked-in the chances of a 25 basis point increase that would lift the Fed Funds rate to a range of between 4.5% and 4.75%, while the CME Group's FedWatch suggests an 82.1% chance of another 25 basis point increase in March. However, the balance of bets for the Fed's May meeting suggest rates holding at between 4.75% and 5% into the summer and beyond, with a small rate cut priced-in for the Fed's November meeting.
"Chair Powell has said that the Committee would not consider cutting rates until they are confidence that inflation is moving down to 2% in a sustained way," said Jeffrey Roach, chief economist for LPL Financial in Charlotte, North Carolina. "The markets expect the Fed to cut rates as early as July. Who is right?"
Benchmark 10-year Treasury note yields are marked modestly lower, at 3.499%, heading into early New York trading session, while 2-year notes rose 3 basis points to at 4.212% following the JOLTs jobs data. The U.S. dollar index, which tracks the greenback against a baskets of its global peers, was marked 0.23% lower at 101.858 following its fourth consecutive monthly decline.
Heading into the opening hour of the trading day on Wall Street, the S&P 500 was marked 11 points lower while the Dow Jones Industrial Average retreated 203 points. The tech-focused Nasdaq was marked 15 points lower.
Advanced Micro Devices  (AMD) – Get Free Report shares were an active early mover, rising 6% following the chipmaker's better-than-expected fourth quarter earnings and optimistic sector outlook.
Peloton  (PTON) – Get Free Report shares were also on the move, rising 13.11% after the fitness equipment maker posted a wider-than-expected second quarter loss but noted that its subscription business outpaced hardware sales as the group's turnaround continues to gather momentum.
On the downside, Snap  (SNAP) – Get Free Report plunged 14% after the the messaging app maker posted a surprise fourth quarter loss and cautioned that a pullback in ad spending would continue well into the current year.
Meta Platforms  (META) – Get Free Report, which owns the Facebook, Instagram and WhatsApp collection of apps and generates nearly 98% of its revenues from online advertising, was marked 0.84% lower following last night's Snap update and ahead of its own fourth quarter earnings after the closing bell.
Meta is expected to post a bottom line of $2.22 per share, down 39.5% from last year, on revenues of $31.53 billion.
Apple  (AAPL) – Get Free Report, Amazon and Google parent Alphabet will all publish their December quarter earnings after the close of trading Thursday.
In overseas markets, Europe's Stoxx 600 gained 0.29% in mid-day Frankfurt trading, following the softer-than-expected inflation figures and modestly improving manufacturing PMI data, while Asia's region-wide MSCI ex-Japan index gained 1.09% and Japan's Nikkei 225 gained 0.07%