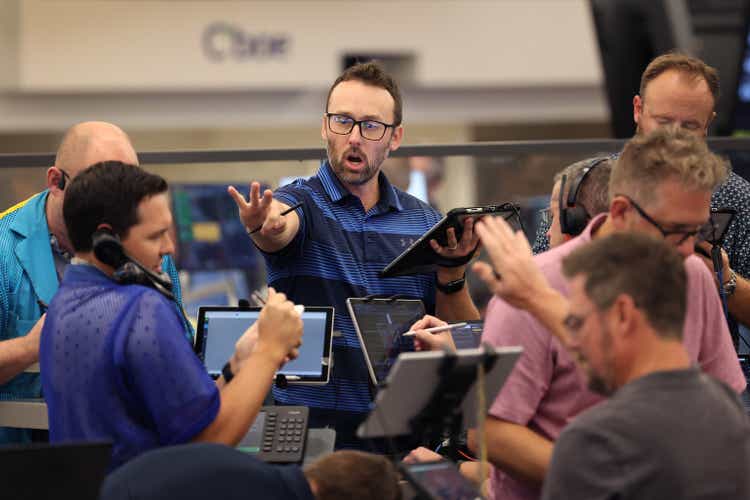 Major market averages opened lower on Wednesday as investors watched job openings rise ahead of the Fed decision and chief Jay Powell's press conference.
Early on and the Dow (DJI) slid 0.6%, the S&P 500 (SP500) declined by 0.3% and the Nasdaq Composite (COMP.IND) was lower by 0.2%.
"After a very positive January, the start of February today marks a pivotal three days for markets that have the potential to decisively set the tone for the weeks ahead," Deutsche Bank's Jim Reid wrote.
"The last time we had a big round of central bank meetings like this in December, the rate hikes themselves were much as expected, but the hawkish rhetoric alongside them led to a big selloff," Reid said. "Nevertheless, the mood going into this round is much more optimistic, with the S&P 500 closing at a 2-month high after the US Employment Cost Index numbers showed labor costs grew by less-than-expected."
The 10-year Treasury yield (
US10Y
) fell 3 basis points to 3.49% and the 2-year yield (
US2Y
) gained 1 basis points to 4.21%.
The market is pricing in a near-certainty the FOMC will cut rates by 25 basis points this afternoon.
The bigger question is whether this will be the last hike in the cycle. Given Tuesday's late rip, traders are positioning for a one-and-done announcement.
Today's hike should be the last, but there won't be a clear Fed signal of that, Pantheon Macro's Ian Shepherdson said.
A "wholesale retreat from the Fed's hawkishness is unlikely; that will have to wait until the March meeting, by which time the Fed will have seen two more rounds of the key growth and inflation data," Shepherdson added.
"In short then, we think the Fed will soon have no choice but to back away from its unrelentingly hawkish message."
From a Fed perspective the December JOLTS numbers unexpectedly climbed to 11.012M versus the consensus 10.2M data point.
"The survey response rate for this (JOLTS) data has collapsed, making the quality questionable," UBS' Paul Donovan said. "The vacancy number does not report actual vacancies, only externally advertised vacancies. Hiring rates are very high, suggesting a lot of the 'vacancy' rise post pandemic has been about people changing company."
ADP says the U.S. jobs added in January continued to moderate. January private payrolls figures came in at +106K versus the consensus figure of 158K.
The S&P Global manufacturing PMI for January came in at 46.9 compared to the forecasted 46.8 figure and 46.8 prior level.
Among active stocks, AMD (AMD) rallied post-earnings. Meta (META) fell in sympathy with Snap (SNAP) after the latter's weak earnings and guidance.