Netflix's documentary Madoff: The Monster of Wall Street left viewers with more questions than answers. While the series thoroughly covered the evolution of Bernie Madoff's Ponzi scheme and gave us insight into the man he was, many still wonder what happened to the victims.
With so many people impacted by his actions, it's unrealistic to think they were all compensated. Here's what we know:
Bernie Madoff's Ponzi scheme fell to pieces in 2008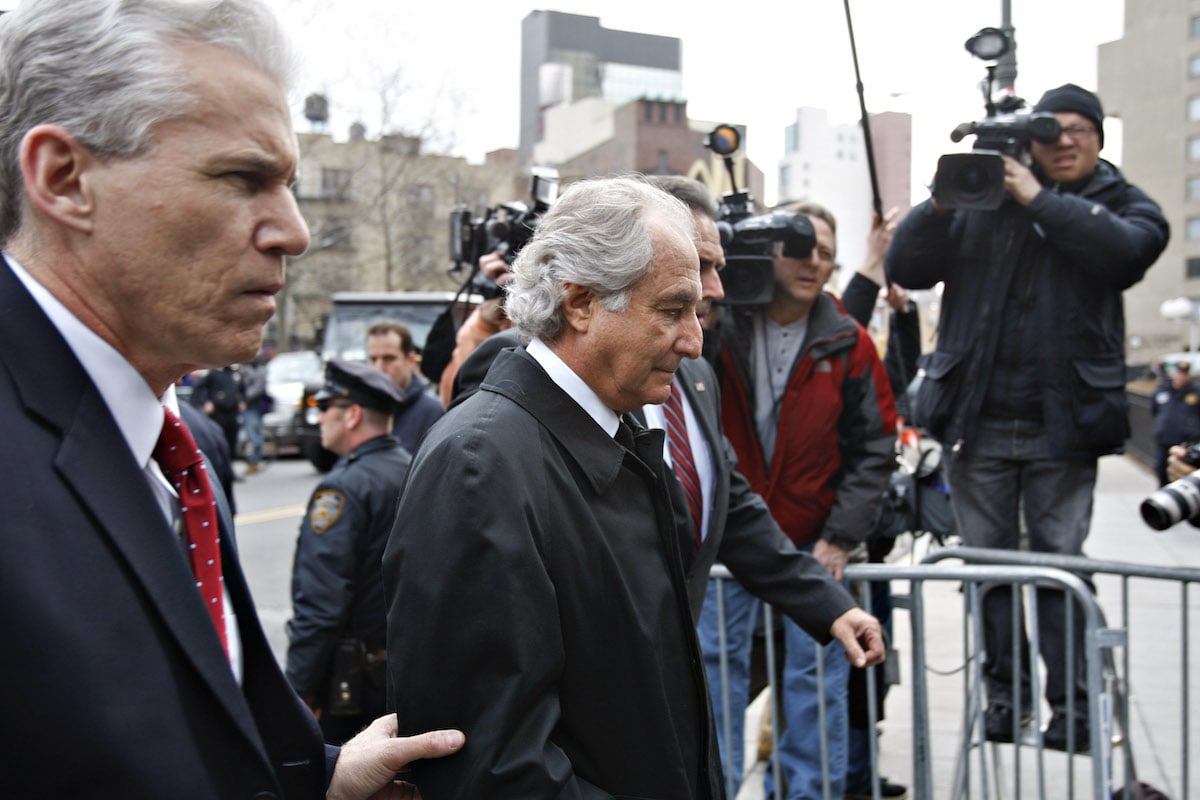 As an investor, Madoff claimed to use a strategy that allowed his clients to see steady gains. He made them so much money that the word spread quickly, and his popularity grew. As more people trusted him to invest their money, his business grew. Little did his clients know that Madoff wasn't actually investing any of their money. 
Instead, he pocketed his clients' money and used other investments to cover the costs when clients pulled out. Madoff did this for years, always managing to evade authorities. As What to Watch reports, it wasn't until the market crashed in 2008 that his scheme fell apart.
Suddenly, all of his clients were pulling out their investments. But Madoff didn't have enough money to cover it all. It was only a matter of time before he got caught. 
Madoff's guilt led to his demise
Once Madoff realized the jig was up, the buildup of pressure and guilt caused him to break down. He wound up confessing to his sons, Mark Madoff and Andrew Madoff. Despite working for their father for years, they allegedly had no idea the business was a sham.
Madoff: The Monster of Wall Street details how Madoff managed to keep his sons and other employees in the dark by limiting their access to certain departments. 
After confessing to his sons in the office, Mark and Andrew took their father home, where he went into more detail with his wife present. His sons turned him in to the authorities, who arrested Madoff the next day. He was charged with running the largest Ponzi scheme in American history, costing his clients $64 billion. In 2009, he was sentenced to 150 years in prison.
Bernie Madoff's victims were partially compensated
After Madoff's arrest, an appointed trustee was tasked with coming up with ways to compensate roughly 37,000 victims. In December 2020, the U.S. Department of Justice reported making a sixth distribution of compensation, $488 million, to those impacted. However, to date, only $3.2 billion of the $64 billion lost has been returned.
According to the statement released by the U.S. Department of Justice, the compensation maxes out at $4.05 billion. The statement read:
"Of the approximately $4.05 billion that will be made available to victims, approximately $2.2 billion was collected as part of the historic civil forfeiture recovery from the estate of deceased Madoff investor Jeffry Picower.

An additional $1.7 billion was collected as part of a deferred prosecution agreement with JPMorgan Chase Bank N.A. and civilly forfeited in a parallel action.

The remaining funds were collected through a civil forfeiture action against investor Carl Shapiro and his family, and from civil and criminal forfeiture actions against Bernard L. Madoff, Peter B. Madoff and their co-conspirators."
Some victims of Bernie Madoff got hit harder than others
If you watched the true crime documentary, you know there's more to this story than the U.S. Department of Justice's statement claims. Any of Madoff's clients who withdrew more money from their investments over the years than they put in had to pay back the difference to help compensate the other victims.
Since Madoff's fake investments steadily grew each month, those who withdrew their profits owed millions. Those who couldn't afford to pay lost their cars, homes, and belongings on top of their life savings they'd invested with Madoff.  
One Madoff victim who suffered more than others is Holocaust survivor and Nobel Peace Prize winner Elie Wiesel. Not only did Wiesel invest his life savings with Madoff, but he also invested $15 million from his charitable foundation. Other notable victims were Steven Spielberg, Kevin Bacon, John Malkovich, Rue McClanahan, and Larry King. 
The Ponzi scheme destroyed the Madoff family
Despite insisting no one knowingly helped him with his fraudulent activity, many believe Madoff didn't work alone. His brother Peter Madoff, who operated as the senior managing director and the chief compliance officer at Madoff's company, served eight years in prison. He received a 10-year sentence for falsifying Madoff's books and records and transferring millions of dollars within the family to avoid tax payments. 
Sadly, Madoff's older son Mark died by suicide in 2010 on the second anniversary of his father's arrest. His other son Andrew died of cancer in 2014. He blamed the stress his father caused for his cancer's return, as until then, it had been in remission since 2003. Most recently, Madoff's sister and her husband died in an apparent murder-suicide in 2022. 
Madoff's wife, Ruth Madoff, found herself homeless after the government seized all of her and her husband's assets. In 2011, she admitted on 60 Minutes that she and her husband attempted suicide while he was out on bail. According to BBC, they took various pills on Christmas Eve in 2008, but both woke up the following day.
Ruth currently lives in a senior development in Connecticut. Madoff died in prison of kidney failure in 2021.