Ahead of President Joe Biden's speech on the economy in Virginia Thursday, White House press secretary Karine Jean-Pierre touted economic growth when asked by FOX Business Wednesday how the president will address recession fears.
"There are concerns that the big tech layoffs and the banking layoffs will spill over into the broader economy," reporter Grady Trimble told Jean-Pierre. "When the president speaks about the economy tomorrow, how will he address those fears and the fears of a recession?"
While the press secretary first acknowledged Americans' "fears" before arguing that jobs and inflation data prove the economy is "building back up" since Biden's time in office.
"We understand the fears. But what I will say is that and I've spoken to this a couple of times, that there is data, job data that we have seen, job opening data that we have seen where layoffs remain [at a] record low," Jean-Pierre responded. "I've talked about the consumer price index. I've talked about the PPE numbers that we have seen as we've seen inflation continue to come down over the last six months. And that is important as we talk about the economy, as we talk about how the economy is building, we're building jobs, building back up."
ECONOMY LIKELY SLOWED BUT STAYED SOLID TO END THE YEAR
But according to the latest labor reading, U.S. hiring cooled in December to the lowest pace in two years. Employers added 223,000 jobs in December, the Labor Department said in its monthly payroll report, topping the 200,000 jobs forecast by Refinitiv economists.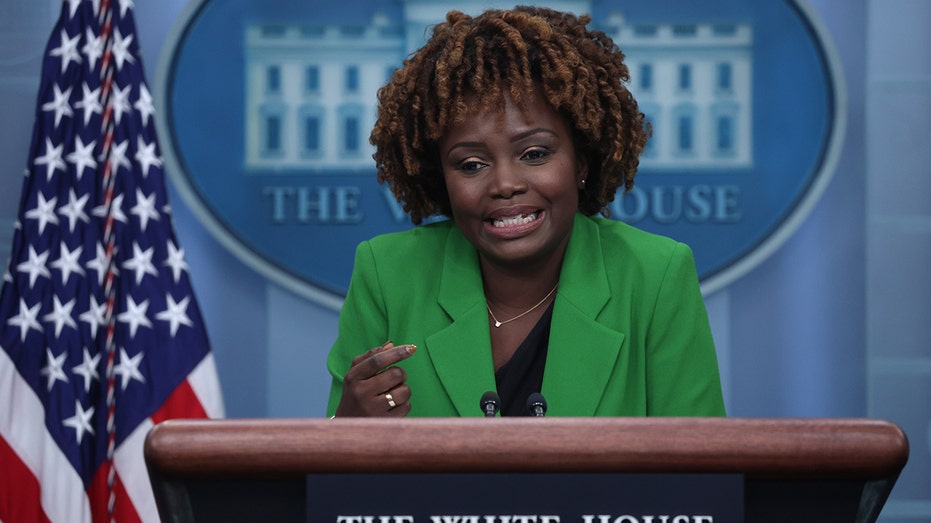 Still, it marks a slight deceleration from the downwardly revised gain of 256,000 in November and is the worst month for job creation since December 2020. The unemployment rate unexpectedly fell to 3.5%, a five-decade low.
The housing market has also been badly hit by decelerating growth due to higher loan rates: Sales of existing homes have dropped for 11 straight months.
Economists are also predicting Thursday's 2022 Q4 GDP reading to come in at 2.6%, down from a 3.2% pace in the third quarter on strong consumer spending and rising exports.
"You look at the GDP, it's growing. We grew by 3.2%," Jean-Pierre said. "All of that is important as we speak to this, as we speak to what we're seeing just across the board. Don't want to speak specifically about private companies and tech layoffs, but there is, again, data out there that shows that the economy is growing."
GET FOX BUSINESS ON THE GO BY CLICKING HERE
Despite a likely second straight quarter of GDP expansion, the economy is widely expected to slow and then slide into a recession sometime in the coming months as increasingly high-interest rates, engineered by the Federal Reserve, take a toll.
"That shows that we are indeed going to a stable and steady, steady growth, which is important," the press secretary said of GDP, "which is something that the president has worked [towards], and you've seen this with his economic policy [he] has worked towards over the last two years."
FOX Business' Megan Henney and Ken Martin contributed to this report.