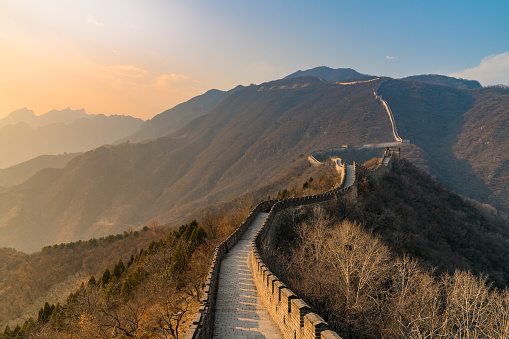 Co-produced with Treading Softly.
When I got a Master's degree, many called it the capstone of their education. It was the pinnacle they strived to achieve in that realm of their life. We hit other capstone or pinnacle moments throughout life – the birth of your last child, the purchase of your forever home, or buying your dream vehicle.
When it comes to our working life, we often start at the bottom and have to work diligently to "climb the ladder." In essence, we are working and struggling and striving to reach the pinnacle of our employment.
Once we've concluded our working years, which followed years and decades of formal education, we reach what many consider to be the capstone era of our lives – retirement.
We give it a lot of fancy or poetic names – like your "golden years." Why is that? It's something millions of working people look forward to as a time of respite from the grind of working and a time period where you have sufficient savings to live comfortably.
Sadly, for over half of Americans, that is more of a mirage in the desert than a reality to look forward to.
Likewise, many retirees are roped into following an aged system of retirement planning centered around the SafeMax or 4% withdrawal rate. It determines you can withdraw 4% of your original portfolio value, adjusted for inflation, annually and comfortably be able to do so for approximately 30 years. This would get most retirees to age 95, assuming they started retirement at 65.
Sadly, for many, 4% is too little to make a meaningful impact. So instead of relying on a system built on old assumptions which rely on an orderly dismantling of one's net worth, I created my Income Method. It uses principles of value investing, dividend investing, and a healthy dose of contrarian viewpoints to leverage income from the market.
We see target yields of 9% for our Model Portfolio – over double the SafeMax income provides – all without having to sell a single share to pay for it.
Today, I have two picks to help you on your way to living a retirement dream paid for by dividends, not your savings balance.
Let's dive in!
Pick #1: ARI – Yield 11.6%
Q4 earnings are frequently a catalyst for stock prices. It is a time when management reports the official numbers from last year and guides us on what they expect for the new year.
One way of thinking about an investment is in terms of "headwinds" and "tailwinds." At any time, a company has numerous forces that are pushing and pulling on them. Their earnings are influenced by dozens of factors, some of which can be controlled by the company and some can't. "Headwinds" are those factors that are putting downward pressure on earnings. "Tailwinds" are those things that are putting upward pressure on earnings. Much of your due diligence efforts should be focused on trying to figure out which are the more powerful factors.
Sometimes, companies provide us with a little preview before earnings. Apollo Commercial Real Estate Finance, Inc. (ARI) recently did this, reporting $3.7 billion in originations for 2022 and $2.2 billion in loan repayments. So in 2022, ARI's loan portfolio increased by approximately $1.5 billion.
There is one headwind in ARI's announcement. In Q4, ARI did see some elevated repayments, with approximately $700 million in loans repaid, offset by $390 million in loans funded. So for the quarter, ARI's loan portfolio declined by approximately $300 million. Whenever the size of the portfolio declines, that is a slight headwind to earnings. After all, the more capital deployed, the more interest they collect. So compared to Q3, this will be a slight headwind to earnings. However, since the portfolio is approximately $1.5 billion larger relative to 2021, we can expect earnings to be much greater year over year.
The main tailwind for ARI is rising interest rates. Here is a look at ARI's interest rate sensitivity. Source.
Since ARI lends at floating rates, rising interest rates increase their income. Rates were already rising in October, and since then have increased even more.
| | | | |
| --- | --- | --- | --- |
| Currency | Current Rate | Change In Rate | Impact on NII/share |
| USD | 4.5% | 1.36% | ~ $0.11 |
| EUR | 1.9% | 0.73% | ~ $0.02 |
| GBP | 3.42% | 1.23% | ~ $0.06 |
All combined, the increases in interest rates increase ARI's annual investment income by approximately $0.19/share.
We will see the tailwinds from some of these increases in Q4 earnings, though it will be Q1 2023 before we see the full benefit. One area of concern for some investors has been ARI's dividend safety since the distributable income of $1.06/share in the first 9 months of the year barely covered the $1.05 in dividends paid – these investors are driving in the rear-view mirror.
ARI maintained its dividend through the tight times because management recognized that interest rates were rising and that it would benefit the portfolio. In Q3, ARI's distributable earnings climbed 6% over the prior quarter to $0.37/share – comfortably covering the $0.35 dividend. With interest rates producing such a strong tailwind, earnings should continue to grow, making the dividend even more secure and even raising the prospect that we could see a dividend raise by the end of the year.
ARI will report earnings after the market close on February 7th.
Pick #2: RVT – Yield 8.5%
Royce Value Trust (RVT) is a diversified closed-end fund ("CEF") focusing on small to mid-cap Value stocks. RVT ended 2022 strong, but that wasn't enough to make up for a tough year. At the end of 2022, RVT was down 21.2%, slightly underperforming its benchmark, the Russell 2000. Source.
RVT has outperformed the market over 35 years, but you can't expect outperformance every single year. We continue to have confidence in the ability of management to beat the market in the long run.
RVT has come into 2023 with better momentum, with its NAV back over $15. RVT's NAV is important for predicting its distribution. RVT has a unique distribution policy incorporating the rolling average of quarter-end NAV. This policy creates a variable distribution, ensuring that the CEF is never paying out too much of its capital while also providing assurance that investors will benefit upon recovery.
The HDO Variable Dividend Tracker provides an outlook on future distributions. We project that RVT will lower its distribution to $0.27/share for Q1.
However, note that with this distribution, the relatively high Q1-2022 NAV of $20.29 will be rolling out of the calculation. If NAV remains in the $15 range, we'll see the dividend bottom out around $0.26 and start to climb when NAV recovers.
The best time to buy a closed-end fund with a variable distribution policy is when the dividend is near the bottom. Which is just a complicated way of saying "buy low." The dividend will likely bottom in Q1 or Q2 of this year, yet the discount to NAV is close to 52-week lows.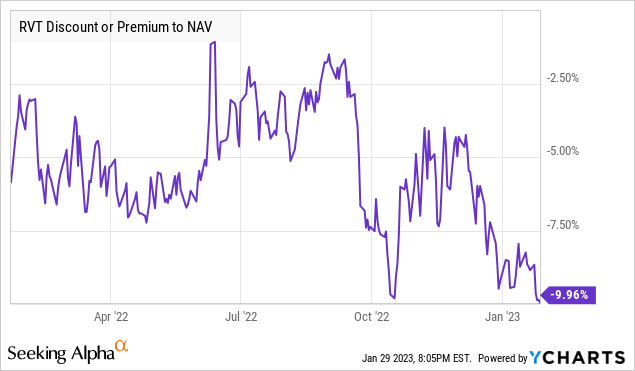 When RVT's distribution starts climbing again, it is likely that the price will rise and trade closer to NAV.
Conclusion
With RVT and ARI, we can receive outsized income on a recurring basis for decades to come. RVT moves with the market, and its distribution is truly variable – tied to its NAV. ARI pays out dividends from its net investment income and seeks to generate large sums of income during all market conditions. Both can provide the income you need to meet your expenses and exceed them.
I don't want a retirement where I'm barely scraping by. I want a retirement covered by an abundant stream of income pouring into my account. That way, my retirement is truly the capstone era of my life. After childhood, schooling, and working, I can relax during my retirement and enjoy the quiet years retirement has to offer.
How does your retirement income situation look to you? Does it look like you'll have an abundant income to meet and exceed your expenses? Or does it look like you'll need to scrape and scrimp just to get by?
Here's to those of you who already have an income stream you're proud of and that meets your expected needs!
For those who do not have such an income stream from their retirement portfolio, now is an excellent time to build such a portfolio and see the fruits of your labor reward you year in and year out.