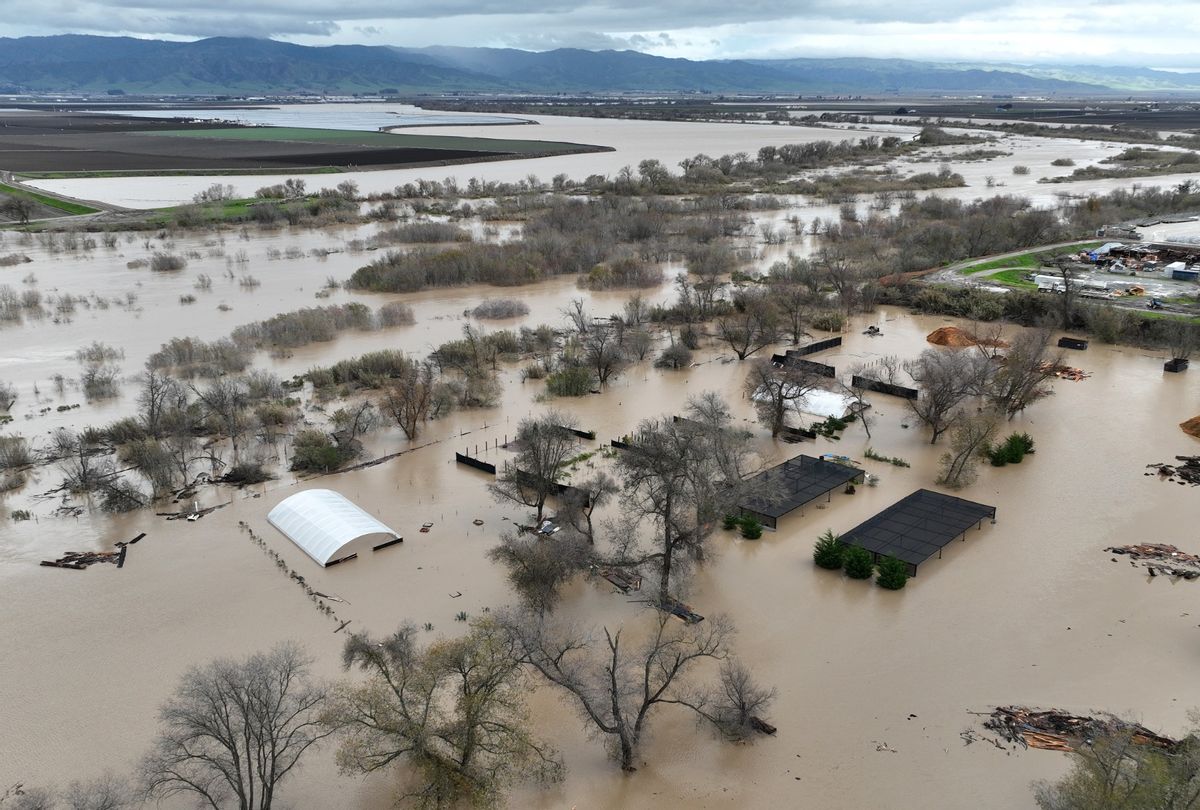 In January, deadly storms submerged California communities and caused as much as $1 billion in estimated damage. The recent rainfall carried by nine atmospheric rivers — bands of moisture blowing in from the Pacific — killed almost two dozen and induced mudslides on land parched by drought and denuded by wildfire. New vegetation from the rain will eventually form fresh fire tinder.
While scientists need more time to determine whether features of the storms were linked to global warming, past research found that heavy rain from atmospheric rivers in 2017 that damaged the Oroville Dam was more intense because of climate change. The dangers of "wet-to-dry whiplash" were described just a few months ago in a state report analyzing the impacts of the climate crisis on California.
Yet the state is struggling to deal with the origins of the crisis: Due to a projected budget deficit of $22.5 billion amid inflation and high interest rates, Gov. Newsom is proposing to slash his much-heralded $54 billion climate package by $6 billion, cutting funding for a wide range of initiatives, with social equity programs hit particularly hard.
California is legally obliged to reduce planet-warming pollution by 2030, but it lacks a clear plan for how to do it, according to one analysis. Although lowering emissions here won't necessarily protect the state from extreme weather, California's failure to achieve its climate goals would be a bad omen for the rest of the world, policy experts warn. State lawmakers will have to act with urgency, amid a constrained fiscal environment and pushback from the powerful oil and gas industry.
The state's top oil and gas producers and refiners have continued buying influence among lawmakers and regulators — the Western States Petroleum Association spent at least $5.6 million on lobbying last year, an increase of more than $1 million from the previous year even without including the last quarter of 2022, data for which isn't yet posted online.
Legislators with fossil fuel support — Shannon Grove (R-Bakersfield), Brian Dahle (R-Bieber), Angelique Ashby (D-Sacramento) — are taking the reins of powerful legislative committees, amid industry pressure to maintain production and refining. Yet other lawmakers have already reintroduced bills to accelerate emissions cuts that failed last year, signaling contentious climate fights on the horizon.
Historic Investment Followed by Deep Cuts
The governor's slashed climate budget includes billions cut or delayed for zero-emissions vehicle infrastructure, community-based transportation equity projects in low income communities, the Transit and Intercity Rail Capital Program, and even infrastructure and repairs for safety crosswalks to encourage more biking and walking. 
Smaller reductions or delays are expected for incentive programs for cleaner energy, such as rooftop solar, long-duration energy storage to bank solar and wind power, carbon removal, equitable building decarbonization and transmission lines to transport electricity. 
There are comparatively fewer cuts to investments to reduce the catastrophic effects of wildfires, flooding and drought. The governor's budget even included new investments to shore up the state's anti-flood infrastructure, which isn't set up to handle successive heavy storms. 
At a press conference, Newsom expressed hope some climate investments would be replenished by federal funds through the Inflation Reduction Act. The budget plan restores funding for some climate measures if more revenues than expected materialize later this year. That may be unlikely, according to a report from the Legislative Analyst's Office, which found the governor's revenue forecasts are overly optimistic. 
While specifics aren't yet clear, low income Californians may suffer the most. The state proposes clawing back millions from initiatives to monitor air pollution, add more urban green spaces and protect people from extreme heat. A grant program for local health jurisdictions to "develop regional Climate and Health Resilience Plans" was nixed. 
California Environmental Voters, a group that advocates for progressive environmental policy, praised a watershed moment for climate funding over the last two years that went way beyond previous commitments, while warning that the breadth and scale of the crisis demands that more be done.
"Instead of radically transitioning from fossil fuels years ago — the source of this climate crisis — we are still in the throes of funding and implementing the transition to clean energy our future depends on," the group said in a statement.
Last year, legislators introduced but then tabled a bill to create a $6.7 billion bond measure to finance projects for heat, wildfire, drought, flood and drinking water protections while investing in climate-focused workforce development.  
"Revenues were performing exceptionally well for the state [and] we were able to do a lot of one-time climate investments through last year's budget," Assemblymember Chris Ward (D-San Diego), one of the bill's authors, told Capital & Main. "So to scale those back immediately — it's concerning."
Dwindling Timeline to Cut Emissions
The governor's proposed budget was released less than a month after the California Air Resources Board approved a plan to radically reduce the state's emissions to zero by 2045 while lowering them to 48% below 1990 levels over the next seven years.
California is proposing to clean up the state's atmosphere with a plan "that would transform how Californians commute, live and consume energy," as Capital & Main reported. But it could place the burden of transition heavily on lower income households, and the state government is lacking in specific policy guidance.
The latter was among criticisms leveled at the plan by the Legislative Analyst's Office, which found it didn't specify how the state would rely on carrots or sticks to meet goals. And it also neglected to address long-standing issues with California's cap and trade program, according to Ross Brown, author of the report.
"Not having that type of analysis puts the Legislature more in a difficult situation of not being able to evaluate which policies best achieve those goals," Ross told Capital & Main. 
That could result in delayed action and a more costly and abrupt transition later. As it stands, California will have to cut emissions each year from now until 2030 by a record 4% annually compared with 1% annually the previous decade. 
Legislators will have to come up with policy specifics, but as the session convenes, old political dynamics are on display and are likely to have an impact. Several pro-fossil fuel state senators were assigned to 10 or more committees, where climate legislation is often strangled by special interests.
Sen. Catherine Blakespear (D-Encinitas), a freshman senator who overcame heavy oil and gas industry opposition to win her seat, told Capital & Main she's focused on boosting public transit oversight and investments to reduce Californians' vehicle dependence, especially long-delayed construction for the San Diego – Los Angeles – San Luis Obispo rail corridor in her district. 
"We need to separate ourselves from the oil and gas industry," Blakespear said, likening fossil fuel campaign contributions to tobacco industry money.
Blakespear was one of several lawmakers who signed a letter to statehouse leaders seeking a restoration of funding for transit agencies, which were already facing "major funding shortfalls" from inflation and pandemic-related drops in ridership and federal aid.
"The service cuts … would lead to fewer mobility options for Californians, increased driving, congestion, and greenhouse gas emissions," the legislators wrote, with "devastating" impacts on climate goals. 
Fossil fuel vehicles are the state's largest source of emissions. Five refinery owners — Chevron, Marathon, PBF, Valero and Phillips 66 — control the market for gasoline and made record profits last year, posting far higher margins in California than in the rest of the country. 
The Legislature has until early March to impose a financial penalty for companies' "price gouging" at the pump last year. Meanwhile, the Western States Petroleum Association, which represents the companies, ended the year on a defiant note.
"Even when our opponents seem set on denying us a meaningful voice in these discussions, rest assured that the voices of the women and men of this industry will be heard," wrote Catherine Reheis-Boyd, president and CEO of WSPA.