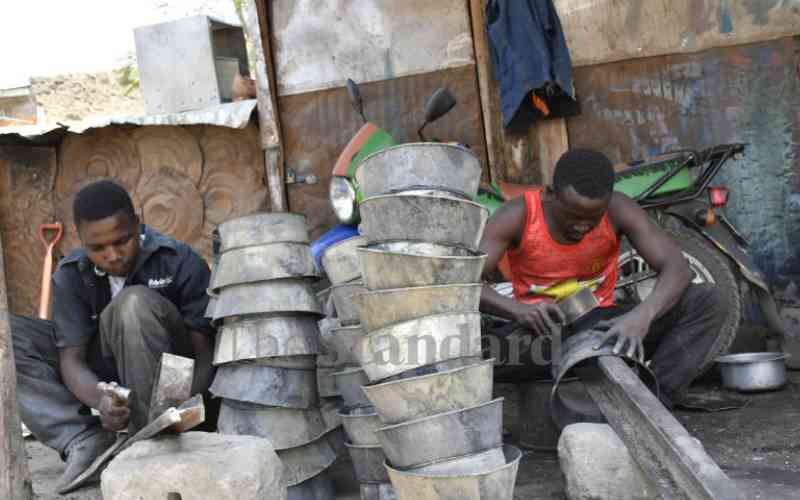 Kenya's economy may be treading on thin ice this year, according to projections by financial experts.
Phrases like "permanent hit", "play it safe" and "not strongly enough" have been used by economic seers to forecast what the year might be like, spicing their predictions with hopeful "fiscal consolidation" and "resumption of near-normal rains".
Separate reports by three institutions forecasting the economy's performance paint an image of uncertainty, with a possibility of growth if the macroeconomic indicators improve or stabilise.
They do seem to agree that Kenya was recovering well from the Covid-19 pandemic, for the better part of 2021, only for the economy to start losing altitude from the pressure of a strengthening US dollar and the Russia-Ukraine war.
[embedded content]
"While the most recent forecast forecasts are somewhat more positive than those in 2020 and 2021, it still appears that there has been a seemingly permanent hit to the economy, with the gross domestic product (GDP) and poverty not projected to resume their previous trends," said the Macro-Fiscal Analytic Snapshot 2022-23 by the Institute of Public Finance.
Covid-19
The report projected the economy to expand by five per cent, below National Treasury's 6.1 per cent forecast.
The positive sentiments in 2021 were perhaps what businesses such as East African Breweries Ltd (EABL) banked on as they looked into the future.
"We had a great set of results after Covid-19. But no sooner had we had that than the geopolitical challenges came in," said EABL Group Managing Director Jane Karuku during the release of half-year financial results last week.
The brewer reported a marginal drop in profit to Sh8.7 billion in the half-year to December 2022 from Sh8.737 billion in a similar period in 2021, following a 19 per cent decline in net sales.
The geopolitical challenges Karuku referred to included the Russia-Ukraine conflict and the depreciation of the Kenyan shilling against the dollar which she said had gone down 12 per cent.
ICEA Lion Asset Management, in its forecast for 2023, details how GDP once hit double-digit growth in early 2021 but then slowed for six quarters in a row ending at 4.7 per cent in the third quarter of 2022.
"In the first nine months of 2022, the economy grew by 5.6 per cent," reads the forecast. "Should rainfall resume this year at normal or near-normal levels, GDP growth in 2023 could approach or exceed 6.0 per cent."
Normal or near normal rainfall, the report says, would reduce food prices, which is the country's leading cause of almost 10 per cent inflation. It said this would bring inflation down to within the Central Bank of Kenya's upper target of 7.5 per cent.
But even with this, an expected global recession could still spill over to put more strain on Kenya.
This is perhaps what informed Standard Chartered's 2023 "play it safe" advice to investors in their dealings in Kenya.
The report cites expected recession in the United States and Europe, a recovery in China and a pause in Federal rates in the first half of 2023, followed by cuts in the second half as the reasons behind the recommendation.
Paul Njoki, Head of Affluent Banking and Wealth Kenya and East Africa, said their research revealed that clients are keen to increase their regular cash flows to cater for life goals such as children's education, retirement and improved lifestyle.
"The current environment offers a rare opportunity to secure higher yields by investing in high-quality bonds and diversifying in currencies," said Njoki.
"Further, a deliberate asset allocation will be key for investors who are looking to benefit from a possible market correction in 2023."
Just like Standard Chartered, ICEA Lion Asset Management call for cautious moves – more of a defensive approach – in the first half of the year.
Possibly then, in the second half, one can go aggressive as the Kenya Shilling is expected to experience less pressure during this period. Treasury bills and bonds are also recommended as an investment option.
Treasury bills and bonds being a preferred investment option are in relation to the floodgate opened in the banking sector that may see credit rates solidify in double digits above the current average of 13 per cent.
"As a result, investors in Treasury bills and bonds will demand higher interest rates from the government," says ICEA Lion, who also foresees a more stable shilling.
"While the shilling may face further downward pressure in the first half of 2023, it may fare better in the second half as the US dollar sheds some of the significant gains witnessed over the last 12 months," it adds.