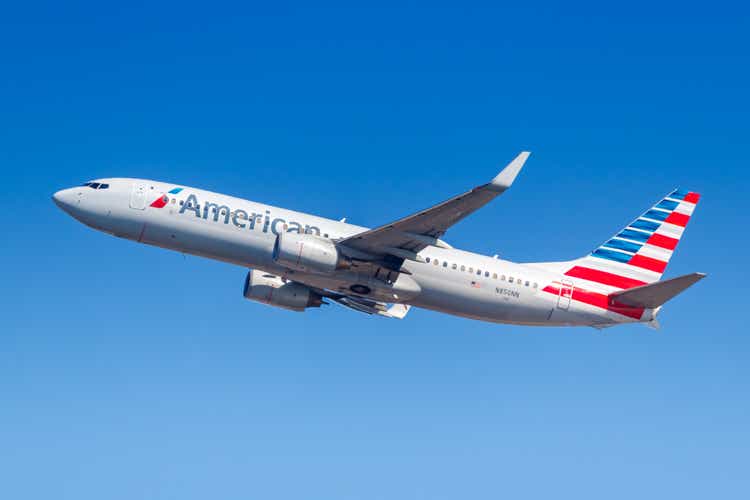 American Airlines (NASDAQ:AAL) shares rose sharply on Thursday after the airline exceeded earnings expectations and forecast strong profits for 2023.
For Q4, the carrier notched $1.17 in adjusted diluted earnings per share, exceeding expectations by $0.10 and coming at the high-end of a pre-announcement offered in early January. Revenue for the quarter reached $13.2 billion, which the company noted was a record.
"We committed to running a reliable operation and returning to profitability, and our team is delivering on both," CEO Robert Isom said. "We're proud to have led the industry in operational performance over the holidays while producing record full-year and fourth-quarter revenues, resulting in a third consecutive quarterly profit and a profit for the full year.
The Texas-based airline's earnings release highlighted operational performance for the strong results. According to an 8-K filing, American ranked first in completion factor for the month of December despite significant weather-related headwinds. Thus far in 2023, the airline said it has managed to maintain its first place status for reliability.
"As we turn our attention to 2023, we will continue to prioritize reliability, profitability and debt reduction," Isom added.
The guidance appeared to be the key driver of share appreciation in premarket trading, with profitability expected to accelerate in the year. For the first quarter, the company expects to break even. For the full-year, management anticipates between $2.50 and $3.50 in earnings per share, well above the $1.89 consensus estimate.
Shares of American Airlines (AAL) rose 2.21% shortly after the print.
Elsewhere, the company updated debt repayment progress, highlighting a $1.2B term loan prepayment during the fourth quarter. The carrier expects to pay down $15B of total debt by the end of 2025. Capital expenditure expectations for 2023 were cut to $2.3B from a prior $2.4B forecast.
Read more on the negative results from Southwest amid its contrasting operational issues.