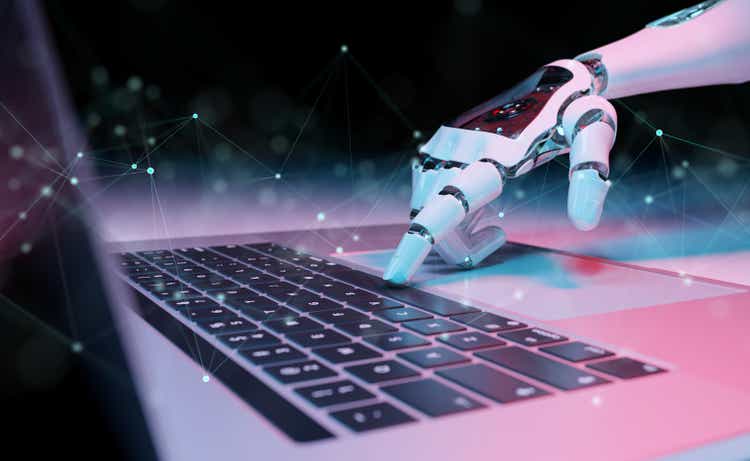 With ChatGPT generating significant chatter in the early days of 2023, AI has become a significant topic of conversation on Wall Street. Against that backdrop, an actively managed ETF that makes its trading decisions based on artificial intelligence has outperformed all three benchmark equity indices in January.
The AI Powered Equity ETF (NYSEARCA:AIEQ), which uses the IBM Watson for machine learning and natural language processing to guide its operation, gained 11.7% in the month of January. This means AIEQ doubled the monthly returns of the S&P 500 and its mirroring (SPY), (NYSEARCA:VOO) and (IVV) funds.
The outperformance was even more acute using the Dow as a benchmark. The gains for AIEQ were five times the performance of the Dow (DJI) and the (NYSEARCA:DIA) ETF. The ETF also outperformed the Nasdaq Composite (COMP.IND) and its benchmark tracking (NASDAQ:QQQ) ETF.
AIEQ currently holds 142 positions and works by analyzing millions of data points across news, social media, analyst reports and financial statements on over 6,000 U.S. companies.
While the AI fund is off to the lead in 2023, this follows a year of underperformance in 2022. Last year, AIEQ dropped 32%, compared to a decline of around 19% for the S&P 500.
Currently, JPMorgan (JPM) represents AIEQ's top holding, according to ETF.com. The financial giant is weighted within the fund at 4.2%. Other sizable positions include Novavax (NVAX), Constellation Energy (CEG), UnitedHealth (UNH), Caesars Entertainment (CZR) and Kohl's (KSS).
In broader financial news, U.S. stocks on Tuesday headed higher as sentiment was helped by economic data on employment that pointed towards moderating inflation.