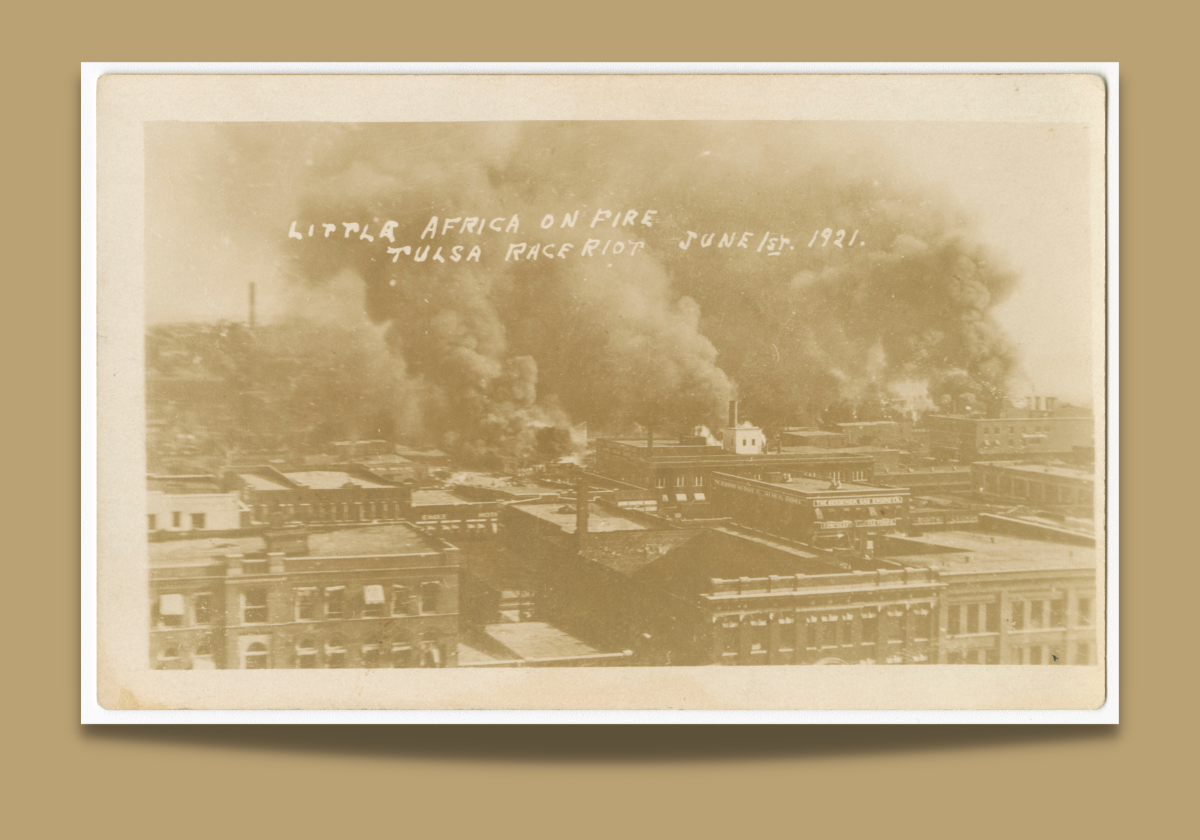 By Keptsia Hawkins, publisher of Macaroni KID Hershey to Elizabethtown, Pa.

February 1, 2023
One of the few surviving photos from the day Black Wall Street burned.
---
Macaroni KID is lucky to have many current and former teachers as Macaroni KID publishers who share their valuable knowledge and resources with us and our readers. Keptsia Hawkins, the publisher of Macaroni KID Hershey to Elizabethtown, Pa., is a former elementary school teacher and mom to three. She wrote about Black Wall Street in a way that makes it easy to explain to children, along with ways to turn the discussion into a lesson. February is Black History Month.
In 1889, there was a land rush in Oklahoma. This means that the United States government gave away land to whoever got there first. A wealthy black man named O.W. Gurley bought 40 acres of land to make sure Black people had an area for themselves because they were tired of being denied services in other neighborhoods. Can you believe it was against the law for black people to shop at white businesses? This led to the creation of Greenwood, also known as Black Wall Street, by 1906. Black Wall Street was in the Greenwood area of Tulsa, Oklahoma. 
Wealthy and influential 
The Black Wall Street area was a thriving community of 108 Black-owned businesses, including doctors, bankers, entrepreneurs, architects, entertainers, lawyers, and real estate agents. Black Wall Street was amazing. It had its own bus system. During this time, the entire state of Oklahoma only had two airports while on Black Wall Street, six black families owned their own airplanes. Many important people, including Mary Mcleod Bethune (educator, civil rights leader), George Washington Carver (agricultural scientist and inventor), and W.E.B. DuBois (the first Black American to earn a Ph.D. from Harvard University) visited Black Wall Street. The Black Wall Street neighborhood was the wealthiest Black community in the United States.
---
Interested in learning more about Black Wall Street and love Minecraft? Visit the MINECRAFT education edition for their game and lesson on Black Wall Street. 
---
It is said that a dollar circulated 36 times in this community and remained there for as long as a year. This means that when a dollar was spent, it stayed between the businesses and services in that community for about a year. This allowed businesses to thrive and helped the neighborhood be successful. 
What happened to Black Wall Street? 
This neighborhood was not far from predominantly white communities that remained unwelcoming to black people. In 1921, an angry mob of about 1,000 people from surrounding communities, attacked residents and businesses on Black Wall Street. They burned 35 city blocks, and it's believed at least 300 black residents were killed and 800 injured. Thousands of Black Americans lost their businesses and were left homeless. The entire neighborhood was burned to the ground. This event is known as the Tulsa Race Massacre. 
The Tulsa Race Massacre was lost from the history books for decades. It wasn't until just a few years ago that Tulsa and the rest of the country began to talk about and remember the events of 1921 thanks to activists and descendants of those who were there that day. 
---
Dig deeper with your kids:
Comprehension questions and conversation starters for you and your young reader:
What was Black Wall Street?
Where was Black Wall Street?
What influenced the creation of Black Wall Street?
What was Black Wall Street also known as?
What happened to Black Wall Street?
Why was Black Wall Street important?
If you could open any business, what would it be? What product or service would you offer?
What materials do you need to start? Who do you need help from to be successful? 
---
Keptsia Hawkins is the publisher of Macaroni KID Hershey to Elizabethtown, Pa.