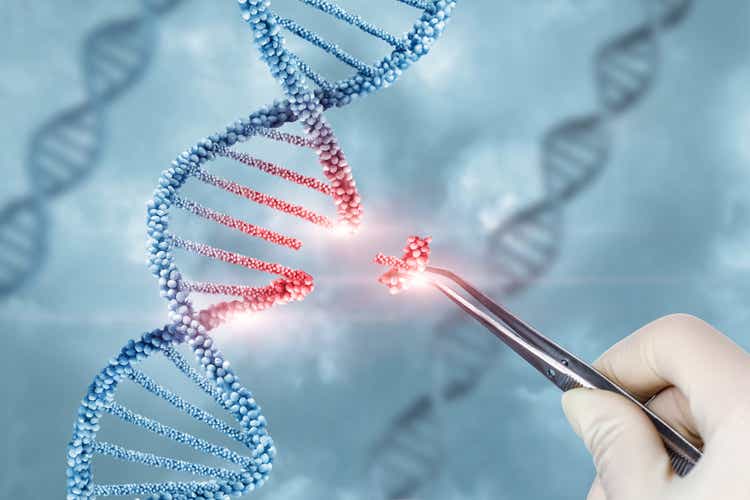 Editas Medicine (NASDAQ:EDIT), Intellia Therapeutics (NASDAQ:NTLA), and Beam Therapeutics (NASDAQ:BEAM) were among clinical-stage biotechs to receive Overweight ratings at Cantor Fitzgerald as the firm launched its coverage on several gene editing companies.
The analyst Rick Bienkowski sees multiple catalysts for gene editing companies at a time when the subsector has underperformed the broader biotech space over the past 12 months due to regulatory uncertainties clouding their path to U.S. approval.
Editas (EDIT: Citing a recent portfolio overhaul, Bienkowski issues a $15/share 12-month target for Editas (EDIT), arguing, "…we believe EDIT shares are well-positioned to appreciate in the coming year due to favorable IP positioning and expected clinical data updates."
In 2022, the U.S. patent officials backed its licensing partner Broad Institute over certain patents covering CRISPR/Cas9 gene editing in human cells.
An appeals court ruling expected in H2 2023 over the decision can strengthen the company's IP position paving the way for Editas (EDIT) to discuss sublicenses for CRISPR/Cas9-based medicines, Bienkowski noted.
Intellia (NTLA): Meanwhile, the analyst points out that Intellia (NTLA) has established proof of concept for its lead programs NTLA-2001 and NTLA-2002 in TTR amyloidosis (ATTR) and hereditary angioedema (HAE) prophylaxis, respectively.
Issuing a $67 per share target on the stock, Bienkowski argues that as the company plans to launch U.S. trial sites for NTLA-2002, a potential clearance of its clinical trial application along with more data for NTLA-2001 could drive Intellia (NTLA) higher over the next 12 months.
In 2021 Intellia (NTLA) and Regeneron (NASDAQ:REGN) drove gene editing stocks higher as early data from a Phase 1 trial for NTLA-2001 in ATTR indicated the potential of in-vivo CRISPR genome editing for the first time in humans.
Beam (BEAM): Cantor estimates a $62/share 12-month target for Beam (BEAM), arguing that the company's base-editing technology allows it to develop "novel medicines that are highly differentiated from competing therapies."
The analyst notes that Beam's (BEAM) partner Verve Therapeutics (NASDAQ:VERV), plans to report Phase 1 data for its lead asset VERVE-101 in heterozygous familial hypercholesterolemia (HeFH) in H2 2023, generating the first patient data for a base-editing therapy.
The readout "could broadly validate BEAM's pipeline if positive and serve as an inflection point for BEAM shares in 2H23," Bienkowski wrote.
Verve (VERV): However, he issued a Neutral rating and $21 per share target for Verve (VERV), citing increased clinical and commercial risk linked to gene editing therapies targeted at large indications compared to other gene editing programs.
The company has suffered a setback in its plans for lead asset VERVE-101 for heterozygous familial hypercholesterolemia in the U.S. as the FDA has issued a clinical hold on its Investigational New Drug application (IND).
Read: According to Seeking Alpha contributor Star Investments, Intellia (NTLA) "is considered the best gene editing company" given its first mover advantage in vivo gene editing.