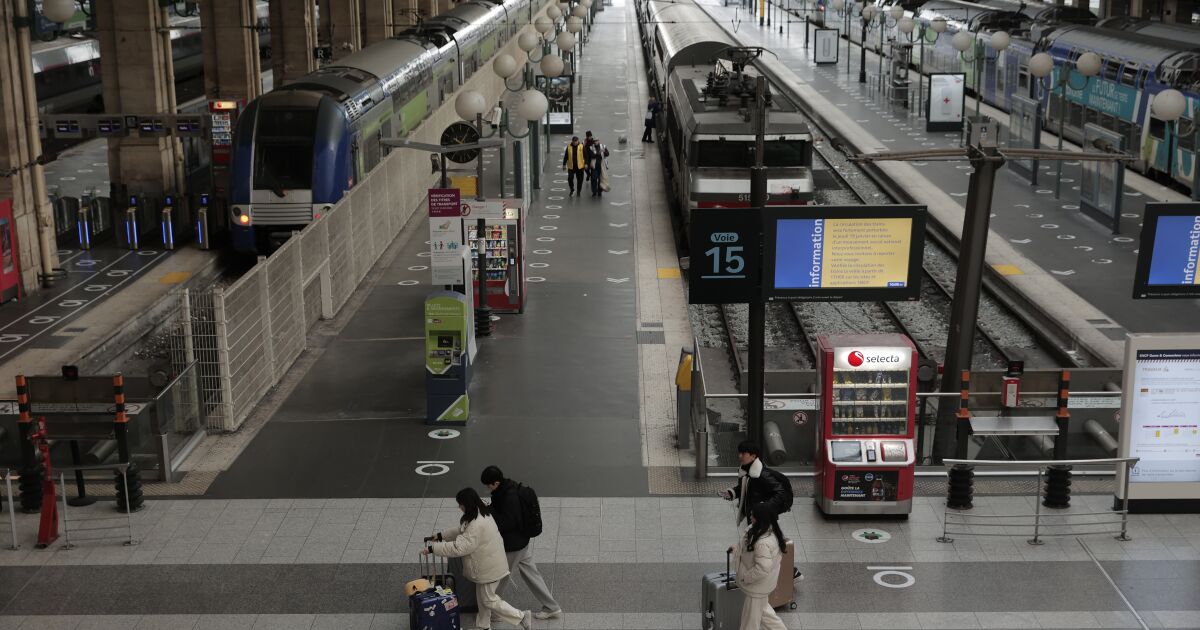 PARIS — 
French workers angry over proposed changes to pension rules that would raise the retirement age are halting high-speed trains, disrupting electricity supplies and taking to the streets Thursday in a day of nationwide strikes and protests seen as a major test for President Emmanuel Macron.
Workers would have to work longer before receiving a pension under the new rules — with the nominal retirement age rising from 62 to 64. In a country with an aging population and growing life expectancy and where everyone receives a state pension, Macron's government says the reform is the only way to keep the system solvent.
Unions argue that the pension overhaul threatens hard-fought rights, and propose a tax on the wealthy or more payroll contributions from employers to finance the pension system. Polls suggest that most French people also oppose the reform.
More than 200 rallies were expected around France on Thursday, including a large one in Paris involving all of France's major unions.
On television station BFMTV, Laurent Berger, head of the CFDT union, called the government's plans an "unfair" reform and called on workers to "peacefully come [out to the streets] to say they disagree."
Police unions opposed to the retirement reform are also taking part, while those who are on duty are bracing for potential violence if extremist groups join the demonstrations.
A majority of trains around France were canceled, including some international connections, according to the SNCF rail authority. About 20% of flights out of Paris' Orly Airport were canceled, and airlines warned of delays.
Electricity workers pledged to reduce power supplies as a form of protest, and some 70% of preschool and primary school teachers said they would refuse to work Thursday, according to French media reports. High school student unions are expected to join the protests by blocking access to some schools.
Liliane Ferreira Marques, a 40-year-old Brazilian saleswoman from Boussy-Saint-Antoine, south of Paris, said she would be late to work because she had to wait to catch one of the few trains to Paris.
"I agree with most of the strikers' demands," she said. "But I am paid barely the minimum wage. If I could, I would have marched with the strikers today, but I can't afford it." She fears that the proposed changes would have people "work more to earn less."
French Labor Minister Olivier Dussopt acknowledged that the pension plans had prompted "concerns" and that they would require "an additional effort" from workers. He called on strikers not to damage France's economy.
"The right to strike is a freedom, but we do not want any blockades," he said, speaking on LCI television.
Dussopt justified the decision to raise the retirement age because the government rejected other options involving tax rises — which he said would hurt the economy and cost jobs — or reducing pension amounts.
The French government is formally presenting the pension bill Monday, and it heads to Parliament next month. Its success will depend in part on the scale and duration of the strikes and protests.
The planned changes demand that workers must have worked for at least 43 years to be entitled to a full pension. For those who do not fulfill that condition, such as the many women who interrupted their career to raise their children or those who studied for a long time and started working late, the retirement age would remain unchanged at 67.
Those who started to work early, under the age of 20, and workers with major health issues would be allowed early retirement.
Protracted strikes met Macron's last effort to raise the retirement age in 2019. He eventually withdrew it after the COVID-19 pandemic hit.