French President Emmanuel Macron has vowed to press ahead with unpopular pension reforms that will raise the country's retirement age, despite massive protests and nationwide strikes.
During a news conference on Thursday at a French-Spanish summit in Barcelona, Mr Macron said that "we must do that reform".
"We will do it with respect, in a spirit of dialogue but also determination and responsibility," he added.
Workers in cities across France took to the streets to reject the proposed pension changes.
It comes on a day of nationwide strikes and protests seen as a major test for Mr Macron and his presidency.
The French government said more than a million people protested across France.
French unions announced new nationwide strikes and protests for January 31 against the plans to raise the retirement age.
Eight leading unions held a meeting on Thursday after their first day of mass protests against the plan, and issued statements vowing to push on with their action to try to get the government to back down.
Earlier on Thursday crowds of people gathered for demonstrations in Paris, Marseille, Toulouse, Nantes, Lyon and other places as strikes severely disrupted transport, schools and other public services across the country.
French workers would have to work longer before receiving a pension under the new rules — with the nominal retirement age rising from 62 to 64.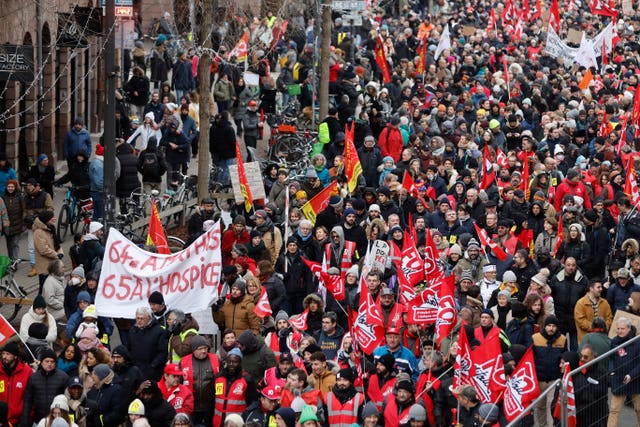 In a country with an ageing population and growing life expectancy where everyone receives a state pension, Mr Macron's government says the reform is the only way to keep the system solvent.
Unions argue the pension overhaul threatens hard-fought rights and propose a tax on the wealthy or more payroll contributions from employers to finance the pension system.
Most French people also oppose the reform, polls suggest.
More than 200 rallies were expected around France on Thursday, including a large one in Paris involving all France's major unions.
Laurent Berger, head of the CFDT union, called the government's plans an "unfair" reform and called on workers to "peacefully come to say they disagree".
Police unions opposed to the retirement reform are also taking part, while those on duty are bracing for potential violence if extremist groups join the demonstrations.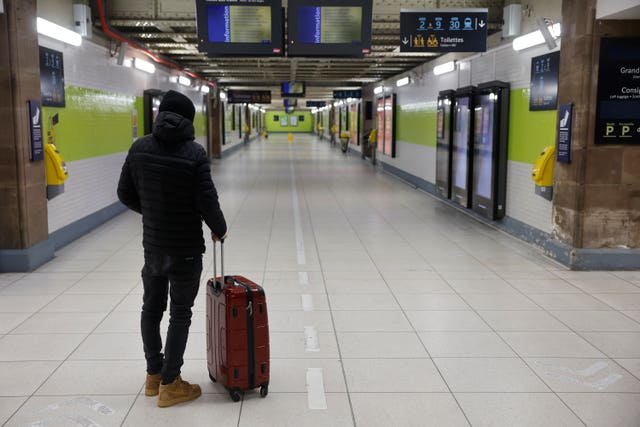 A majority of trains around France are cancelled, including some international connections, according to the SNCF rail authority.
About 20% of flights out of Paris's Orly Airport are cancelled and airlines are warning of delays.
Electricity workers pledged to reduce power supplies as a form of protest.
The ministry of national education said some 34 to 42% of teachers are on strike, depending on schools. Student unions were expected to join the protests.
Thierry Desassis, a retired teacher, called the government's plan "an aberration".
"It's at 64 that you start having health problems. I'm 68 and in good health but I've started seeing doctors more often," he said.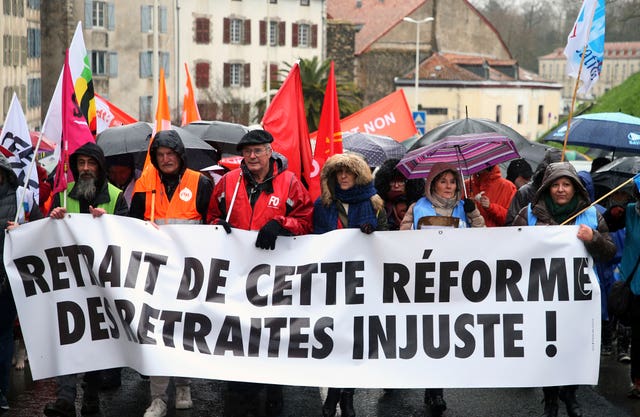 The strike was also affecting some monuments. The Versailles Palace was closed on Thursday while the Eiffel Tower warned of potential disruptions and the Louvre Museum said some exhibition rooms will remain closed.
Many French workers expressed mixed feeling about the government's plan and pointed to the complexity of the pension system.
Selim Draia, 48, an animation artist, said some changes may be needed "but rushing through it like this — I think the country is divided and polarised enough to take the time to have a conversation".
Quentin Coelho, 27, a Red Cross employee, felt he had to work on Thursday despite understanding "most of the strikers' demands".
With an ageing population in the country, he said, raising the retirement age "isn't an efficient strategy. If we do it now, the government could decide to raise it further in 30 or 50 years from now. We can't predict".
Mr Coelho said he does not trust the government and is already saving money for his pension.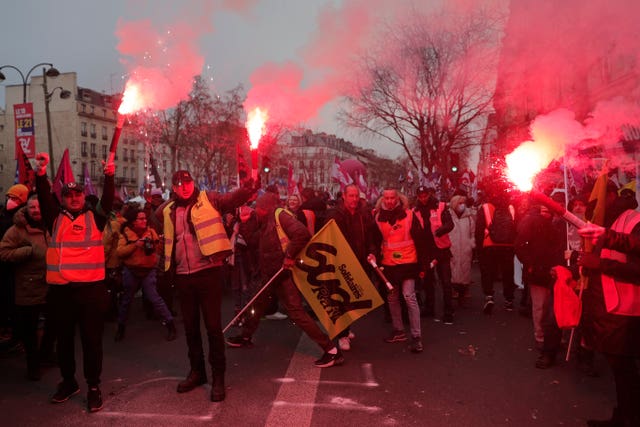 Liliane Ferreira Marques, a 40-year-old Brazilian saleswoman from Boussy-Saint-Antoine, south of Paris, said she supports the strikers' demands but cannot afford to go on strike because she is "paid barely the minimum wage".
French labour minister Olivier Dussopt acknowledged "concerns" prompted by the pension plans that will require from workers "an additional effort".
He called on strikers not to block the country's economy.
"The right to strike is a freedom but we do not want any blockades," he said, speaking on LCI television.
Mr Dussopt justified the choice to push back the retirement age because the government rejected other options involving raising taxes — which he said would hurt the economy and cost jobs — or reducing pension amounts.
The French government is formally presenting the pension Bill on Monday and it heads to Parliament next month.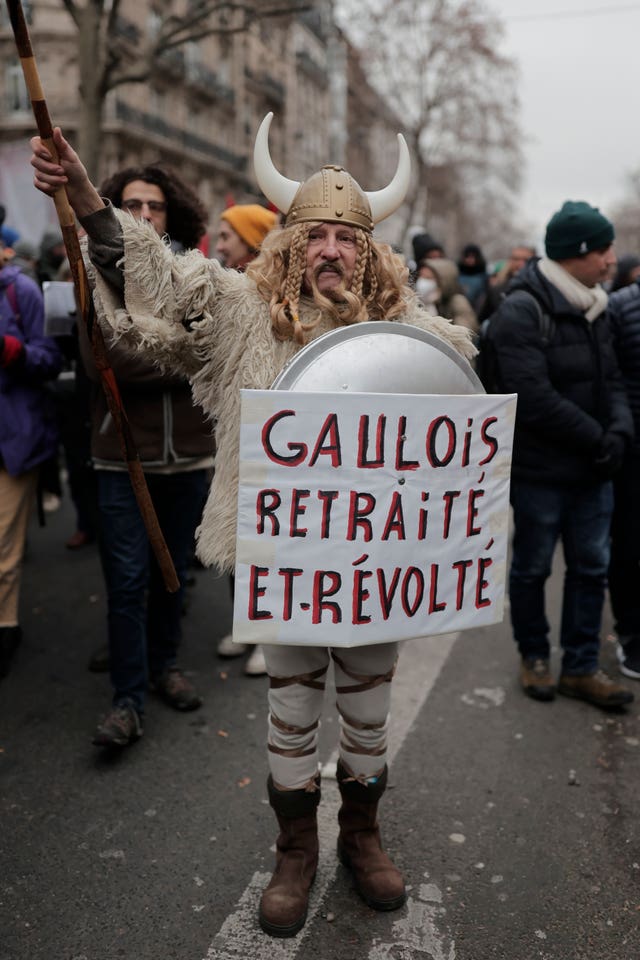 Its success will depend in part on the scale and duration of the strikes and protests.
The planned changes say workers must have worked for at least 43 years to be entitled to full pension.
For those who do not fulfil that condition, like many women who interrupted their career to raise children or those who studied for a long time and started working late, the retirement age would remain unchanged at 67.
Those who started to work early, under the age of 20, and workers with major health issues would be allowed early retirement.
Protracted strikes met Mr Macron's last effort to raise the retirement age in 2019.
He eventually withdrew it after the Covid pandemic hit.