view original
post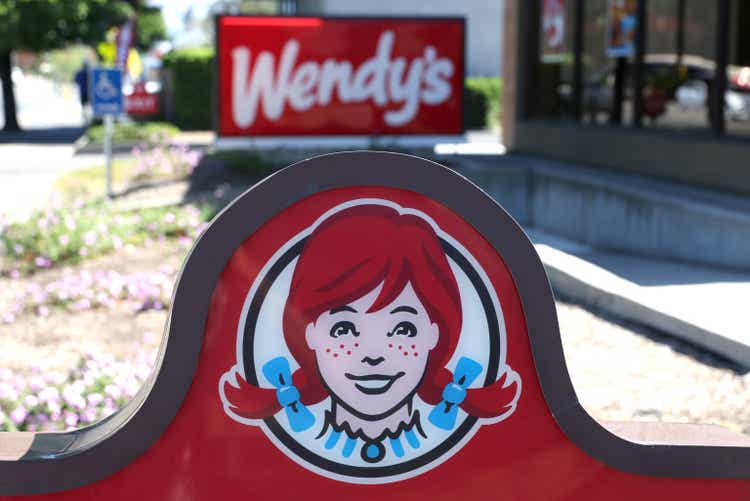 The Wendy's Company (NASDAQ:WEN), together with its subsidiaries, operates as a quick-service restaurant company. While WEN's stock price has declined in 2022, it has substantially outperformed the broader market.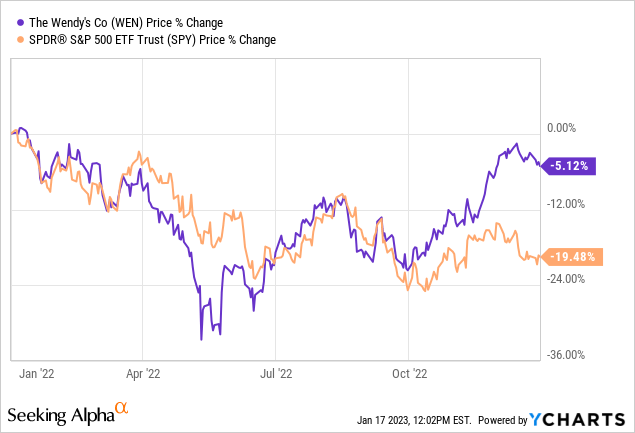 The restaurant chain has also started 2023 with good news, as it has pre-announced above-consensus sales and a bolstered buyback program.
In today's article we are going to take a look at the pros and cons of investing in Wendy's at this point and assess whether this outperformance is likely to last in 2023.
Pros
Financial performance in the past years
The financial performance of firms around the globe have been largely affected by external events, including the Covid-19 pandemic and its implications or the geopolitical tension in the Eastern European region. As these events have been largely influencing the consumer behavior/spending, the demand for certain products and services has declined rapidly in certain sectors. While Wendy's operating revenue has also been volatile in the past years, it has been generally trending upwards.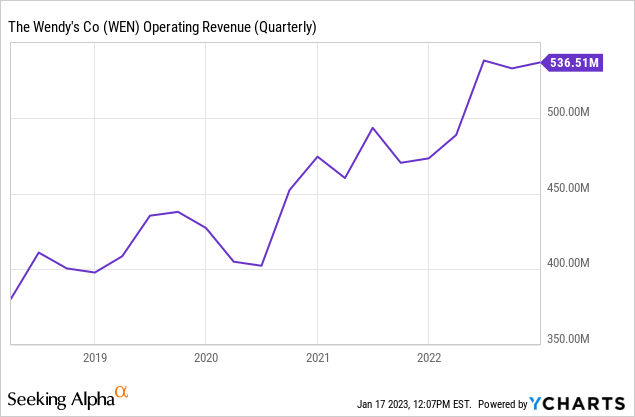 In our view, this proves that even in a slowing economic environment people want to keep spending their money at Wendy's. At the same time, both gross profit and net income have been trending slightly upwards, but not to the same extent as revenue.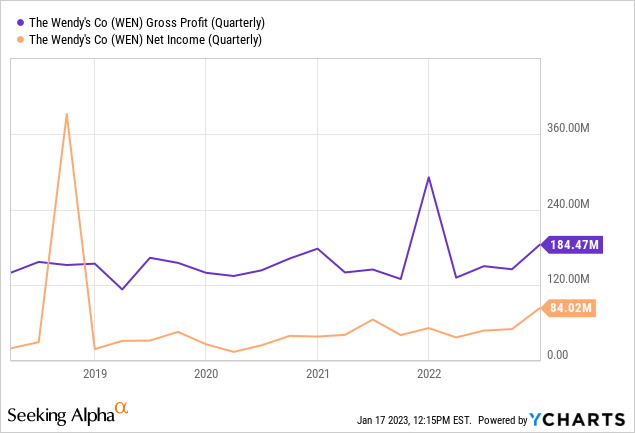 Looking forward we expect the macroeconomic environment to start improving towards the second half of 2023. Slowing inflation, decreasing energy/raw material/freight costs are likely to positively impact the firm's margins. Further, an improvement in consumer sentiment could lead to increased demand.
Returning value to shareholders
We are going to focus here on two types of returns to investors: dividends and share buybacks.
Dividends
Wendy's has been paying dividends to its shareholders since 2004, in each year.
While the consistency of the dividend growth is not particularly appealing, we believe that both of the dividend cuts, in 2008 and 2020, were justified. In both cases, we believe, that management has done the right thing, in order to preserve the company's liquidity and make sure that they have enough financial flexibility to remain a going concern.
Also, in January, Wendy's has announced that it is doubling its quarterly dividend to $0.25 per share. On an annual basis it corresponds to a forward yield of 4.6%. While from one perspective it is definitely good news for shareholders, one has to keep in mind the sustainability of such a dividend increase.
The firm's dividend is likely to be sustainable in the short term in our opinion, but the dividend coverage ratio of only 1.09 is definitely concerning. Over the course of 2023, we are going to keep an eye on this metric, and would like to see it significantly improving.
Share buybacks
Over the past decade, Wendy's has reduced its number of shares outstanding by as much as 46%.
Along with the recent dividend hike, Wendy's has also announced the authorization of a new $500 million share buyback program. To put this figure into perspective, the current market cap of Wendy's is somewhat less than $5 billion. For this reason, we believe that share buybacks will likely remain an important source of shareholder returns in the coming years.
Liquidity position
The current liquidity position of Wendy's appears quite attractive. Both the current- and the quick ratio are well above 1, indicating that the firm has more than enough current assets to cover its current liabilities, even if we exclude inventory from the equation. These ratios also compare favorably to the ratios of the company's competitors.
In our opinion, even if 2023 turns out to be a more difficult year than expected, Wendy's is likely to have enough financial flexibility in the near term.
Cons
Valuation
The first con that we have to highlight is the valuation. When looking at a set of traditional price multiples, we can see that Wendy's is trading at substantial premium compared to the respective sector median.
In our opinion, these multiples are too high in the current macroeconomic environment, even if they are lower than the firm's 5Y average.
On the other hand, when we narrow the comparison to direct competitors, the company's valuation does not appear to be that high anymore.
All in all, we believe that at the current price level Wendy's is fully valued. We do not see significant upside potential from a valuation perspective. Analysts also appear to believe that the stock is currently fairly valued. Deutsche Bank, for example has a price target of $23 per share on the stock, implying no upside potential.
Net store closures in the United States
While revenue has been growing store count in the U.S has decreased by 3 units in the past quarter. A decline in store count, especially if it continues, may have negative implications on the company's growth and market share in the near term. Analysts have been also underwhelmed by this figure:
Despite gross openings of 38 units in the quarter, net units in the U.S. segment were down by 3 units total, implying elevated domestic closure activity," equity analyst Brian Mullan noted. "In order, we thought domestic comps were 'good', company owned RLMs were 'fine' and domestic units were 'underwhelming,' which is just our take.
While Wendy's revenue has been growing consistently in the past years, it has not been as rapid as the growth of some of its peer, which are now comparable in size.
We would like to see Wendy's start growing at a somewhat faster pace, which could potentially be fueled by additional store openings and by gaining market share.